I feel worried for Zach's sake. His concern about the cost of something as minor as takeout is a reminder of his situation. He has nothing. No clothes to speak of. No money. No education. How in the world can he possibly make it in the English world?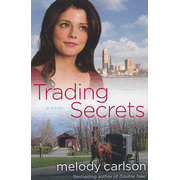 Genre:
Realistic/Amish fiction
Target Audience:
Girls 13-19
Subjects:
Amish lifestyle, Friendships, Dating relationships, Future/Career Decisions
Summary:
Spring break should be amazing… or horrifying. It depends on how her pen pal of six years takes the news that his pen pal isn't a boy, but rather, a girl. Back in fifth grade, pen pals were assigned – an Amish school with an English school. The trouble is that the Amish teacher, believing photographs to be sinful, removed all the pictures. And Micah's name is one normally used for boys, not girls. So for six years they've been writing. They've gone through tough times together, encouraged and supported each other. And now it's time for Micah to reveal her secret. But Zach has been keeping a secret too. His secret is that he has lost his desire to be Amish. He has a thirst for knowledge, particularly mechanics and veterinary care. It's easier to keep secrets when your only interaction with one another is letters, but the time for meeting has finally come and all secrets are about to be revealed.
Notes:
Trading Secrets is another of Melody Carlson's youth fiction books exploring what would happen if an Amish and an Englisher entered each other's worlds. The first half of this book shows an English girl entering the world of an Amish boy. The second half shows the Amish boy entering the world of the English girl. As usual, a large focus is put on the culture differences, focusing on the beauty of the simplicity and living close to the land that the Amish have and the beauty of the freedom to be who God made you to be that the English have. The spiritual focus is on the characters choosing to turn to God in prayer when they become totally unsure of what else to do.
Spiritual Content Recommendation Scale:
2.5/5
Psalm 90:8 –You have set our iniquities before You, our secret sins in the light of Your presence.
Thank you to Revell for providing me with a free copy of this book to review in exchange for my honest opinion. .