Will he do what the prophecies say?"
Mab frowned. "Their meaning is disputed," he said. "Certainly he will complete the tower. And just as certainly he will control the planets from it. But whether he will defeat the Changer's purposes for Anthropos…"
His voice faltered and he stared at John hard. John flushed. Mab's eyes were twin accusations. "A good deal depends on the Sword Bearer," Mab breathed, his voice as soft as his eyes were hard, "for only the Sword Bearer can bring about the ruin of the Mystery's tower."
John's heart beat unpleasantly. He was sorry he had asked. Suddenly he didn't want to know anything more about the two towers. He even wanted to forget he was the Sword Bearer.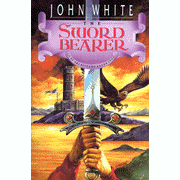 Target Audience:
Boys 10+
Subjects:
Family Relationships, Salvation, Good vs. Evil, Truth, Power
Summary:
His thirteenth birthday is here. He has been promised that all will be revealed on his thirteenth birthday. But it's not the grand unveiling John dreamed of. Instead he arrives home to find him grandma dead, the neighbors ready to ship him off to an orphanage and Nicholas Slapfoot – the legendary enemy of every child in the city – ready to pursue him. Before anyone can catch him though, John is whisked away to Anthropos, another world! Here he finds himself to be the prophesied Sword Bearer. But first, the Mystery – Lord Lunacy ensnares John, filling his head with lies and bitterness. Only by drinking the wine of free pardon and choosing to follow the Changer can John be of any use to Anthorpos or even survive to make it to his own world again.
Notes:
The Sword Bearer is the first in the Archives of Anthropos series, an allegorical story. The author claims his children begged for more stories like the Chronicles of Narnia and this is his attempt to imitate that. However, for an imitation it has a lot of creative, original content. The allegory is clear – the Changer – the unmade Maker represents God and the Mystery – Lord Lunacy represents Satan. There is a prophecy about Gaal who will come and save them someday. The regents – two humans who "walked with Him daily, but then failed to believe what He told them, fled from His presence and hid, and then were clothed in furs and appointed to rule a kingdom" appear to represent Adam and Eve. The Matmon seem to represent humans – people given a choice of who to follow. The message of being unable to save yourself is very clear in this story. Only through the power of the Changer can one find true peace and joy and be freed from the evil inside of them.
Spiritual Content Recommendation Scale:
5/5